Men and woman
柔(じゅう)は女性に、剛(ごう)は男性に例えてそれぞれの体に描く。
アートとは人の生活と欲求の中から生まれるものである。
Women are passive, Men are active, considering these
concepts, I have projected these onto their bodies.
Art is born from one's life style and desires.
生きている限りすべての扉を叩け!道は自分で切り開くもの。
初めて男女を一枚の写真に収めた作品。新たなる可能性が広がる。
Because we live, all the doors should be open! We should forge
our own path with our hands. This is the first time I used a man
and a woman in a piece. A wide panorama of possibilities awaits.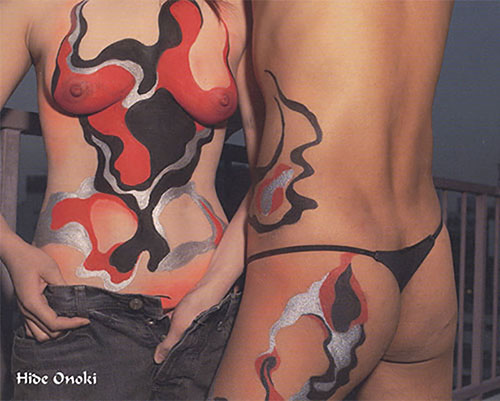 その先に
To Move Forwards
その先にあるもの…その先に開ける道…その先に…。
常に感じる心を持ち続けること。
感じて動くからこそ「感動」が生まれる。
The future that awaits us… The paths that may open… When we move forwards,
into the future. We must keep holding onto the heart we feel every day.
Because we feel and move forwards, "deep emotions" can be born.